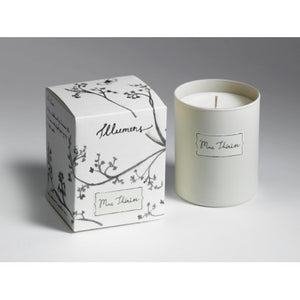 Illumens Scented Candles, Aroma Diffusers & Home Fragrance

After over a decade of being renowned for producing the most beautiful bath essences and personal fragrances, Caroline Hardy has now applied her skill in design and perfume creation to the area of home fragrance with delightful results. In the past Caroline has designed bath and home products for customers as diverse as Henri Bendel, Laura Ashley and Ralph Lauren, Marks and Spencer, Boots and Tesco. ILLUMENS however, has the products of which she is most proud, since they are developed without compromise. Russell comes from a background in design as well having worked for Designers Guild, Osborne and Little and Harvey Nichols.

All of our scented candles and taper diffusers are handmade and carefully packed in Suffolk where we live and work. The ILLUMENS team is small, but that's the way we like it, Russell and I develop everything ourselves from the initial idea, right through the development of the fragrances and the packaging to the final product. Everything in the process is very carefully considered so that the end product is beautiful to look at, performs amazingly and is affordable!

Collections:
ABBAYE was launched in September 2013 and was inspired by a visit to a 17th Century Cistercian abbey in Northern France. We worked with Kate Nicole, a talented young Suffolk artist on the design for the packaging, which we wanted to look like a Grand Tour notebook, and the results are just stunning - like the fragrances which are so popular and sell so well. We named the fragrances after aspects of the Abbaye : 'Poire 1796' is so called because there is a pear tree in the grounds planted in that year, and 'Countess Marie' was a one time inhabitant of the abbey.